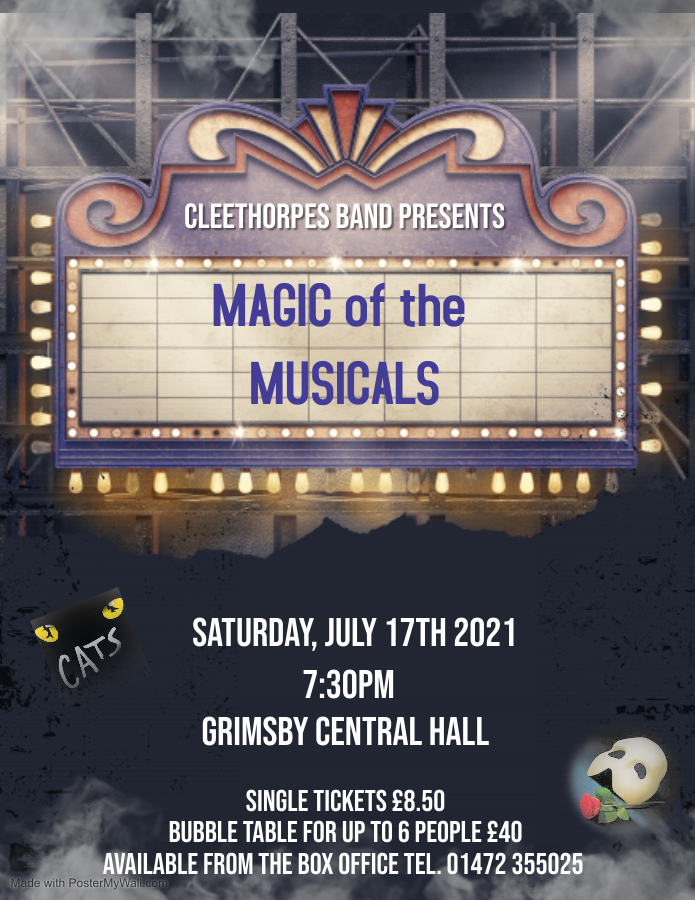 | | |
| --- | --- |
| Date | Saturday 17th July 2021 |
| Start time | 7:30 PM |
| Venue | The Grimsby Central Hall |
Additional details
We are so happy to let you know that the Band will finally be returning to the Central Hall for its first performance in 15 months, to present the long awaited "Magic of the Musicals" concert on Saturday 17th July 2021, 7:30pm.
Join us in the main auditorium of the Central Hall for "Some Enchanted Evening" of great music and screened images, all delivered in our customary informal manner!
Whilst restrictions may have eased further before this date, using the main hall ensures that we can provide you with plenty of space for social distancing and use the recommendations that are currently in place now, providing you with peace of mind and the best experience we can offer.
Tickets are just £8.50 for theatre style (socially distanced) seating. We are also offering a small number of "bubble tables" that can seat up to 6 people priced at £40 per table.
Tickets are available from Monday 7th June and can be purchased by calling the Central Hall box office on 01472 355025 between the hours of 10:30 and 14:30 Tues-Friday